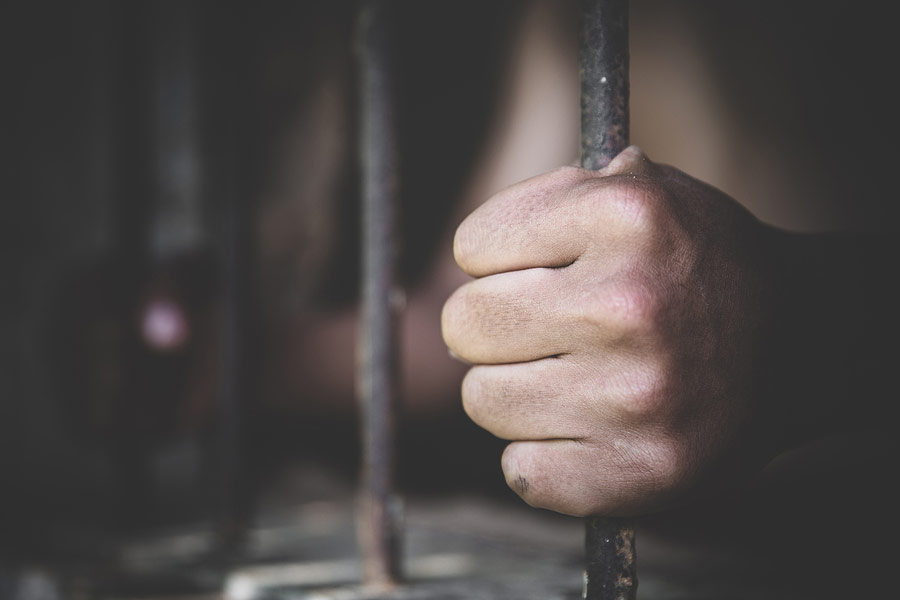 The mother of the 17-year-old who committed suicide in a courthouse holding cell last year is suing the sheriff and the city, saying they failed to protect her son, who had a long history of mental illness and trying to kill himself.
Lisa Washington, mother of Katrell Washington, filed the wrongful death lawsuit Thursday afternoon against Norfolk Sheriff Joe Baron and leaders at the Norfolk Juvenile Detention Center.
The lawsuit alleges a sheriff's deputy falsified a logbook after the teen's death to make it appear she and her colleagues had checked on him.
Lisa Washington is asking for $5 million to compensate her for the loss of her son, plus $350,000 in punitive damages from 18 defendants, including Baron, Juvenile Detention Center Superintendent Carey Patterson and the city, which runs the center.
Lt Col. Michael O'Toole, the No. 2 at the Norfolk Sheriff's Office, declined to comment on the suit around noon Friday, saying he didn't have a copy of it because the office had not been served. City spokeswoman Lori Crouch declined to comment.
On Nov. 16, Katrell Washington used his shackles to strangle himself in a fifth-floor holding cell. He was awaiting a hearing on charges that he threatened a Maury High School teacher, tried to attack her with scissors and stabbed two students who protected her.
Washington had long-suffered from severe mental illness and tried to commit suicide multiple times, attorney Beth Ufkes wrote in the 56-page lawsuit filed in Norfolk Circuit Court. In fact, Washington had come to court to plead not guilty by reason of insanity so the judge could order him to get the treatment he needed.
But detention center employees said nothing when they handed off Washington to Norfolk sheriff's deputies so they could take him to court, Ufkes wrote. Then, she alleges, deputies put him in a holding cell alone and didn't check on him for more than an hour as he wrapped his shackles twice around his neck and strangled himself.
"He relied on the system for help, and the system failed him," Ufkes' law partner, Michael Goodove, said in an interview.
Later, the lawsuit alleges, Deputy Mylicia Andrews created false logbook entries saying she and her colleagues had checked on Washington. Andrews, who started working at the sheriff's office in 2013, had "separated" from the agency by March, according to records The Virginian-Pilot got through a public records request.
The allegation against Andrews echoes a state investigation that found Portsmouth jail staff falsified logs after two inmate deaths five months apart.
The Norfolk sheriff's office made changes shortly after Washington's death. Less than two weeks later, Baron told The Pilot he would order an assessment on everyone coming into his custody. The sheriff's office had long required inmates coming into the jail to be assessed; Baron's policy change expanded the requirement to those like Washington who would only be in deputies' custody for a few hours.
Washington's mental illness was well known to detention center staff, Ufkes wrote in the suit. He had threatened to kill himself several times and had made multiple attempts to end his life by drinking a half bottle of Pine-Sol, swallowing liquid soap, cutting himself with a spork, and trying to hang himself with clothes.
So detention center staff housed Washington alone, Ufkes wrote. He was either naked or had to wear a "suicide smock" to prevent him from using clothes to hang himself. He also had to write and draw in crayons because he was forbidden from having pencils.
But they didn't tell Norfolk sheriff's deputies about any of this, Ufkes said.
Deputies put Washington in "dangerous" handcuffs and leg shackles attached by the drop chain he would later use to kill himself, Ufkes wrote. She added that Deputy Shawn Dean, a 19-year veteran, freed Washington's right hand from his handcuffs, "greatly exacerbating an already dangerous situation."
At 9:55 a.m., deputies put him in the courtroom holding cell, Ufkes wrote. At 10:42, he took the drop chain and wrapped it twice around his neck, then used his free right hand to tighten the chain.
Then the teen fell off the bench to the floor of the cell, Ufkes said, adding that her timeline comes from a Norfolk police detective's written account of a surveillance video Ufkes has not seen herself.
About 20 seconds later, Washington started convulsing, Ufkes wrote.
But no one checked on him for another 23 minutes when two lawyers found him at 11:05 and cried for help, she added.
Ufkes and Goodove said in an interview that their investigation found that the deputies had seen Washington on surveillance video, but thought he was sleeping.
Paramedics took the 17-year-old to Sentara Norfolk General Hospital, where he died the next day.
Norfolk Police Department homicide detectives investigated Washington's death. They determined no one committed a crime and nothing deputies did caused his death, Norfolk sheriff's spokeswoman Karen Pinkston said in a Feb. 9 news release. Investigators with the state Office of the Chief Medical Examiner ruled the death a suicide.
But Sheriff's Office employees were disciplined for violating the agency's policies and procedures, Pinkston said in announcing the end of the internal investigation into Washington's death.
Baron has refused to specify how or how many of his employees were disciplined, except by saying in the February news release that "appropriate disciplinary actions have been taken to hold them accountable for those deficiencies." Baron also wouldn't say which policies they broke, because doing so would identify them to former Sheriff's Office colleagues, he said.
A Pilot review found that at least three deputies left the Norfolk Sheriff's Office after a three-month investigation into Katrell Washington's death. Two of them said they were fired.
All three were quickly hired by the Portsmouth Sheriff's Office.
Investigations by police detectives and the medical examiner should be enough information for people, Baron said in an interview in March.
The sheriff's staff lawyer at the time, Jennifer Worden, said Baron wouldn't release the final report on Washington's death. The sheriff could make the information public if he wanted to, but state law allows him to keep certain information secret, including records of inmates and administrative investigations into possible wrongdoing by law enforcement officers.
A day after Washington died, Circuit Judge Jerrauld Jones ordered the Sheriff's Office and police department to destroy all copies of the video once they completed their investigations. After Ufkes filed a motion, Jones on Dec. 4 ordered Baron to preserve the video in case it was needed in a future lawsuit.
Ufkes and Goodove said they haven't seen the surveillance video, but expect to get it as their lawsuit moves forward.